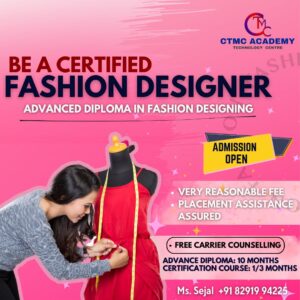 Embark on a Stylish Journey with Very Reasonable Fees
Fashion, a canvas of self-expression, beckons to those with a flair for creativity. If you aspire to dive into the world of fashion designing, look no further. Our comprehensive courses offer not just education but an odyssey into the realms of style and innovation.
Placement Assistance Guaranteed: Your Gateway to Success
At Ctmc Academy institution, success is not just a possibility; it's a promise. With a focus on real-world applications, we provide placement assistance to ensure your transition from student to industry professional is seamless. Let your creativity soar as you step confidently into the world of fashion.
Advance Illustration: Mastering the Art of Visual Storytelling
Our curriculum goes beyond the basics, delving into the intricacies of advance illustration. Unleash your artistic prowess, as we guide you through the nuances of visual storytelling. Elevate your designs from ordinary to extraordinary with our expert-led courses.
Embroidery Techniques: Adding a Touch of Elegance to Your Creations
Precision meets artistry in our embroidery courses. Learn techniques that transform fabric into a canvas of intricate details. Elevate your designs with the timeless allure of embroidery, mastering skills that set you apart in the competitive world of fashion.
Accessory Design: Crafting Fashion Beyond Clothing
Fashion extends beyond garments, and so do our courses. Immerse yourself in the art of accessory design, where every detail matters. From statement pieces to subtle accents, discover the transformative power accessories bring to the world of fashion.
Stylized Croquis: Breathing Life into Your Sketches
A designer's journey often starts with a sketch. Our Stylized Croquis courses breathe life into your drawings, teaching you techniques to make your designs leap off the page. Elevate your sketches from mere lines to captivating representations of your creative vision.
Tailoring Mastery: Precision in Every Stitch
In the world of fashion, precision is paramount. Our tailoring mastery courses equip you with the skills to create garments that fit seamlessly. From basic stitches to intricate tailoring techniques, our expert instructors guide you towards mastery in the art of tailoring.
Drafting & Pattern Making: Crafting the Blueprint of Fashion
Behind every stunning garment is a meticulously crafted pattern. Our courses in drafting and pattern making unveil the secrets of creating the blueprint for your designs. Acquire the skills to turn your concepts into wearable art with our comprehensive curriculum.
Courses Tailored to Fit Your Schedule
Choose the path that suits you best with our flexible course options. Our Advance Diploma spans 10 months, providing an in-depth exploration of fashion designing. Alternatively, opt for our Certification Course, a condensed 1 to 3-month part-time, job-oriented program that guarantees results.
Unlock Your Potential: Enroll Today
With our commitment to quality education and unwavering support, your journey into the world of fashion starts here. Enroll now and let your creativity flourish as you pave the way for a successful and fulfilling career in the best Fashion Designing course in Mumbai